You don't have to leave your dogs at home on your next trip
Hiking and camping with your dog doesn't have to be a challenge. Not only can you bring your pup along to many campgrounds, but it can be incredibly rewarding for you and your furry best friend. Still, if you and your dog have never camped before you might have a lot of questions: What do you need to know and bring? What about those funny little dog backpacks? What should you do once you're there?
Before heading to your nearest campground, it's important to be prepared so that you and your dog have a great time out. If you aren't sure how your dog will react to camping, try taking them to some dog friendly hiking trails or day-use areas before going on a longer trip.
What to do before planning your trip
Brush up on some basic commands. You'll want to make sure your dog will listen to you around the campsite. Your pup should be able to come when you call and stay when you ask. You'll want to practice all basic commands in a variety of situations to make sure your dog is ready to head outside.
Help your dog get used to being outside. Some indoor pets might be a bit overwhelmed by the great outdoors, while others love being out in the wilderness. Is your dog the kind of pup who might run off as soon as they see a squirrel? You'll want to be sure your dog will stay out of trouble and stays close.
Plan where your dog will sleep. If your dog is already used to sleeping in your bed, this should be easy! Still, you'll want to check that your dog is comfortable in a tent. There's plenty of tent accessories and camp-specific dog beds to make sleeping outside as comfortable for them as it is for you!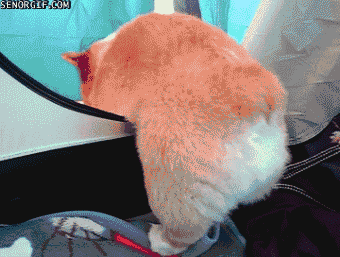 Prepare for the weather. Making sure your pup is ready for the weather can be key to having a good time. Cold weather vests, booties, and rain coats for winter months are just as important as plenty of water and place for your dog to stay cool in the summer.
---
What to bring on any trip
Two Leashes– A short leash is always essential (and it's worth looking into hands-free leashes for hiking), but a longer lead is great to use at the campground.
Water bowl– There are plenty of options from a camp cup to packable pet bowls. Just make sure you always bring plenty of water and make sure to always leave some out just like at home, especially in hot weather.
Dog brush or comb– For longer-haired breeds especially you'll want something for removing burrs and bramble from your dog's fur in case that run through the woods goes awry.
Safety light– The same thing you use when walking your dog at night is great to have once it get's dark at the campground too.
Extra pet gear you should consider
Dog lifejacket- If you plan on going near the water with your pup, this is super important. Even active dogs can get tired while swimming, and it just adds peace of mind.
Insulated vest- Short haired breeds especially will need this in colder months. Depending on where you live your dog may also need booties for rain and snow (dogs can loose a lot of warmth through those toe beans!).
Dog backpack- While you should avoid loading your dog up with too much weight, especially small dogs, a dog backpack can be handy for your pup to help carry their snacks, poop bags, or a water bowl while hiking.
---
How to choose the best campground
There's likely plenty of great places near you to bring your dog, from backcountry areas to your local state park. Public parks are probably going to have more trail space and be more remote, but less pet-friendly. Private campgrounds tend to be more built-up, but may have additional amenities for pets like off-leash areas or dedicated dog parks. Private campground are also tend to have pet-friendly cabins or yurts if you're looking for a more comfortable year-round camping option.
Regardless of where you're looking, be sure to know the leash-laws for the area you're heading to. Public spaces like national and state parks typically have stricter leash laws than private campgrounds. While your dog may be able to be off-leash on hiking trails, they may need to be leashed up at the camp campground or vice-versa!
The best pet-friendly parks near Philadelphia
National Treasure- Delaware Gap National Recreation Area: Delaware Gap is huge, covering 70,000 acres and offers nearly a dozen campgrounds between the Pennsylvania and New Jersey sides. Not all campgrounds are pet-friendly, and many areas are seasonally closed to pets for safety reasons. Even taking that into account, Delaware Gap has tons of options for pet owners.
There's multiple RV/tent campgrounds that are privately managed, primitive campsites throughout the park, and even boat-in riverside camping available. While you'll need to plan your trip according to what areas are open to pets and keep your pup on-leash, few other parks let you canoe with your dog over a 1,000′ gorge.

Public Campground- French Creek State Park: Most Pennsylvania state parks are open to pets (56 to be exact) but French Creek is the closest and biggest to Philadelphia that's pet-friendly. State parks offer the most variety of activities and French Creek has it all- swimming, biking, disc golf plus cross-country skiing and ice skating in the winter.
You'll need to keep your pup on a leash for your entire visit, but pets are allowed on most of the walking and hiking trails. Just be sure to reserve a pet-friendly site in C loop!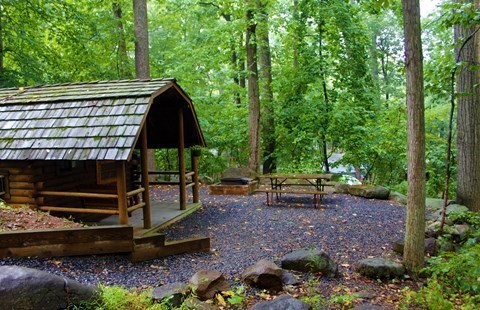 Private Pick- Gettysburg KOA: KOA (Kampgrounds of America) can really make camping easier for folks with kids and pets and you've probably heard of them if you camp a lot. They tend to offer a lot of amenities you don't normally see at public campgrounds like playgrounds, laundry rooms, pools, and more.
The Gettysburg location is a further drive than some other private campgrounds, but has a fenced-in dog park and offers pet-friendly cabins, something not always found at private spots.
The best pet-friendly parks near Washington, DC
National Treasure- Prince William Forest Park: Prince William offers a relatively short drive, which is great for traveling with pets, while being more remote than a lot of other campgrounds within an hour's drive.
They do require pups to be on a leash at all times, but pets are allowed on hiking trails and at all campsites. The forest is great for spring through fall camping- offering plenty of shade in the summer and gorgeous autumn colors before winter sets in.
Public Campground- Sky Meadows State Park: All Virginia and Maryland State Parks allow pets, but each campground has an individual overnight pet policy. Sky Meadows is one of the most pet-friendly though, even having 'Dog Days' gatherings throughout summer for dog owners to meet up and hike the trails! Campsites are walk-in only, and at around 1.5 miles you don't want to bring too much stuff but it is doable for tent campers.
The campsites have all the usual amenities (including firewood so you don't need to haul your own) but are still beautifully remote and give you plenty of space and privacy to enjoy the wilderness. Sky Meadows is perfect if you're looking for some peace and quiet!
Private Pick- Cherry Hill Park: Cherry Hill is the closest possible campground to DC and while it's on the more urban side of campgrounds, it's really accessible to all types of campers. There's everything from quiet primitive campsites to oversized RV spaces and cabins. Some cabins are pet-friendly, and dogs are welcome at tent and RV sites. Cherry Hill is also the easiest for families, offering laundry facilities, showers, and a small water park.
They have an off-leash dog park and pet-friendly trails, but where they really beat out the competition is that they offer a dog-walking service if you're out for the day. Unlike many other private campgrounds, there are also 40+ miles of public and private hiking and biking trails you can access from the campground.
---
What to do once you're out there
Now that your dog is trained, campsite is reserved, and your bags are packed you're both ready to enjoy being outside. There's plenty to do with your dog, from hiking and swimming to just being out there.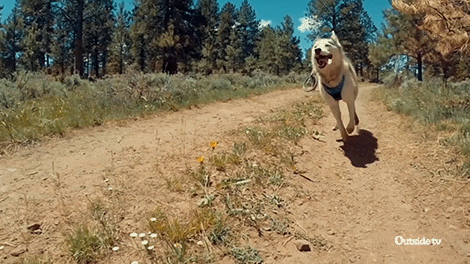 Hiking with your dog can be great exercise and a ton of fun. Many trails are pet friendly, just check to see if there are any leash requirements before hitting the trails. Doing a walk around the campground or short hike can also help acclimate your dog to the area and help them feel comfortable with their surroundings.
You'll also want to have a good idea of what trail conditions are and pay close attention to your dog if you take them hiking. Stopping frequently to give your pup a water break and time to rest will make sure your dog doesn't get too tired. For longer hikes be sure to also bring snacks for your dog.
Lakes, beaches, and rivers offer tons of places for your dog to run through the water or go for a swim. Always check leash-rules before heading out, but chances are that there's an option at or near your campground. Dogs tend to love being by the water, just be ready to deal with hot sand and warm weather!
You'll want to pack dog booties and some shade for your dog in hotter months. It's also important to check any waves and surf before letting your dog off-leash and be sure you can stay close while they're in the water. Dogs can't swim as well as people so having a dog lifejacket is a must if you'll be around water.
---
How to have good pet-camping etiquette
Keep your dog on a leash around other campers. For me, nothing is better than being approached by someone else's friendly dog at a campground, but not everyone feels the same way! Keep your dog in sight and never leave them alone at the campsite. You also will need to watch out for other campground pets and local wildlife.

Take care of business the right way. Practicing leave-no-trace is just as important for dogs as it is for people. Be sure to bring plenty of extra poop bags if camping and keep an eye on where your dog does their business. For backpackers, bury your pet's waste away from trails, campsites, and water sources.

Set designated feeding times. You never want to leave any kind of food out where animals might get to it. Pack away any pet food or treats when you don't need them. Keep wildlife wild!